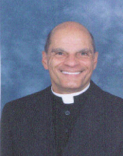 According to the woman who answered the phone at the parish on January 10, 2012, Rev. Justin is still on staff but is back at the abbey. "No one says anything," she said, "He is constantly prayed for here."  
Are they also praying for his victims? – The Richmond Letter

From the Richmond Letter [ View ]:
This was not the first time that Delbarton/St. Mary's had hired an investigator to review claims of misconduct. In February of 2011, four people (including two victims of misconduct at Delbarton/St. Mary's) reportedly met with Larry Nagle, a former sex crimes investigator for the Middlesex County Prosecutor's Office.
For over five hours, the four described the culture and what they knew about misconduct at Delbarton/St. Mary's. During the interview, misconduct by Rev. Luke Travers and Rev. Justin Capato was described.
Following the interview, the two victims were told that Larry Nagle found their accounts of misconduct to be very credible. Despite their credibility, the St. Mary's Abbey appeared to take no action with regard to Rev. Luke Travers and Rev. Justin Capato.
Note: Rev. Justin Capato remains listed as associate pastor (in the phone system) and the parochial vicar (on the web site, See Appendix C) at Notre Dame of Mount Carmel Parish in Cedar Knolls, New Jersey. In his outgoing voice mail message, Rev. Justin says "I will be away from the parish for an extended period of time."
According to the woman who answered the phone at the parish on January 10, 2012, Rev. Justin is still on staff but is back at the abbey. "No one says anything," she said, "He is constantly prayed for here."  Are they also praying for his victims?